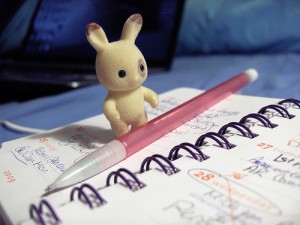 I'm relatively undisciplined.
That's not to say I don't have a kick-butt work ethic. Just that I am by nature rather random and easily pulled off course. Not to mention extremely focused to where I lose track of time and just how could I have spent the past three hours on that?
Since I'm trying to be more strategic with my time and I have no boss to help me out, I've been pondering how to ensure I'm spending at least some time every day on the things I say are important. Making them actually important, in other words. I've decided to try running myself on a schedule for the next month. Which based on today, I'm already realizing isn't going to work exactly as I envisioned it. (Nothing like seeing the failure before you even start.)
I have certain things that I need to work on every day – Squidoo empire, various blog projects, writing projects like books. And things I want to be working on more like design projects and that 48 Days book I keep meaning to get to. Not to mention exercise that needs to be squeezed in. And my quilting challenge that seems to run hot or cold.
What tends to happen is that I spend most of my time over on Squidoo. Part of that is I have a system there now. I know what I'm doing, it's proven to make money for me, it's the basis of most of my online empire. And it's not like the time I spend there is wasted … exactly. But for some of the longer term goals I want to hit, devoting most of my time there doesn't help. If I spend seven hours on Squidoo, I'm likely not spending enough time on my book ideas, making it highly unlikely they'll ever get done.
So, we're going to test this for November. Just three hours for Squidoo, two hours for quilting, two hours for writing (of all kinds), 30 minutes for exercise and 30 minutes for 48 Days. That's an eight hour day. Shoot. That doesn't exactly leave room for running errands, going shooting, rehearsing music, etc. Guess quilting time is actually going to end up being "whatever" some days to ensure I get my household management work done.
Projects to complete: marketing e-book, 30 blog posts across all blogs, 25 new lenses, give-away worksheet. (Sheesh. That doesn't look like enough. Sure sign it's probably fine since I have a tendency to expect to much.)
How do you manage your time to ensure you're focused on the right things? What are you trying to complete this month?
Photo credit: the_vampire_hanna on flickr. CC BY 2.0 license.