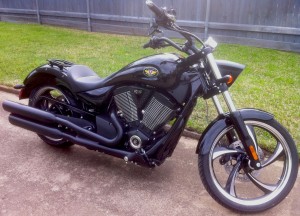 Time for thinking about taking another long motorcycle trip. Only this time, way long. As in close to 5,000 miles long. (OK, that was the original plan, but we might be cutting that back. Someone has to work and make money during the month!)
Still, wherever we go, it's going to require spending a lot of time in the saddle. And on my perfectly adequate Suzuki M50, a lot of time doesn't equal a fun time.
It's a great bike; don't get me wrong. But when you spend the day traveling at highway speeds, it can start to wear on you.
Which got me looking at bikes with six-speeds to make for a smoother ride over the long distances. I almost got a Fat Boy Lo, really wanted to like the Triumph Thunderbird, but landed on the absolutely amazing Victory Vegas 8-ball. It's completely blacked out, giving it that bad-ass look, and fits me perfectly right off the lot. Hooray for that!
Ordering saddlebags, highway bars and a windscreen to set it up for the long-hauling we plan to do. Anticipating a lot of fun on this one!
(Oh, and of course, this means my lovely M50 is for sale. Help me get my garage space back!)