So I've been back in my painting togs of late. Got a burr under my saddle to redo my craft room, which took a bit of convincing myself since that mural I had on the one wall took me forever to paint (not to mention the math involved!), but it was time. We've been in this house almost 10 years and that's long enough for any one decorating scheme, me thinks.
One thing that's been holding me back was just trying to decide what to do. Coming up with ideas is certainly not the problem for me. So I started poking around in my fabric closet to find something I liked and met my desire for something bright and happy. Pulled out this great daisy fabric from Northcott that I bought for no reason other than that I liked it. And it falls in that confusing area of being flowers and blue. Do you know how hard that is to use in a baby quilt? Argh. But I loved it. So that's where I started.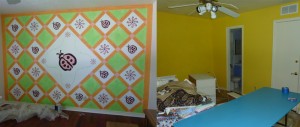 Decided to do the walls in the yellow with blue for the accents. I knew covering that mural was going to be tough so I primed with Kilz (the toxic version) and then did three coats of paint with primer. And I swear if I think about it, I can still see some of the ladybugs ghosting through. But I will be the only one who ever does, so I stopped at three coats. And I ran out of paint at that point.
It's blazing hot right now, so I did all the priming at once inside in my craft room. Not a great idea since that original Kilz needs to be in a place with plenty of air circulation. Headaches ensued for all of us. Stupid, Susan.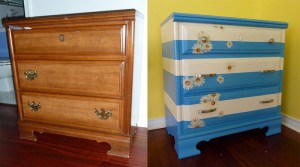 Priming isn't always a big part of my painting routine, but there was no way to avoid it this time, in part because I was redoing some old crappy furniture. This dresser has been making the rounds since Kevin and I got married; it was his when he was a kid. Other than the hardware, it really wasn't that horrible. But I wanted cute and adorable and unique, so it was on the painting block. It took over a week to make that cute look happen despite the fact that I rushed a couple of steps (I am so impatient) and I might cover it in plastic to keep anyone from touching it.
The new hardware I purchased turned out to not be the right size; I apparently need some remedial measuring classes or to possibly remember to take a measuring tape with me to the store. So we had an extra step in there of filling holes at the beginning and drilling holes at the end in order to make my purchased-at-a-store-closing-and-thus-not-returnable hardware work. Coat of primer, couple of coats of white on those stripes, taped it off, pulled off a punch of white paint with the tape, cursed, painted the blue stripes, pulled off more white paint with tape, cursed, touched up white paint, modpodged flowers cut from the fabric, one clear coat, scratched the blue trying to get a drawer back in, cursed, touched up blue after getting all the drawers in, ignored the fact that I have a couple of different sheens on the piece now. Again, something one I will notice as most people will just be wowed by the fact that I did that to the dresser. Yea me for not getting obsessed with making it perfect! It's now filled with my new yarn stash, which means I need a new place for stencils now.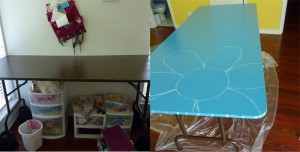 Ages ago, a church I attended was getting rid of a huge bunch of cafeteria tables. I snagged one with no plan in mind (along with 10 metal folding chairs which sit in a closet) but it eventually became my cutting table. Perfect size and once up on bed risers, the perfect height. A coat of primer, blue paint, some white decoration and three coats of clearcoat to protect the whole thing. The table is usually covered in cutting boards and fabric, so I didn't really want to spend the time to repeat what I did with the dresser. The excessive clearcoating is because multiple sharp objects are typically on the table and I'd like for it to stay perfect as long as possible. It's still out-gassing and probably will for a month before I feel completely confident in tossing things willy-nilly on it.
Last project so far was making an ironing board cover of the inspiration fabric. (Have to use it somewhere!) Looks good, doesn't it? Totally isn't working. I added a bunch of new padding, which makes for a great ironing surface. But the extra padding isn't staying in place, rolling up on the sides as you try to move a shirt around. And the cotton of the daisies is gripping so you can't really move the shirt around that well anyway. Great in theory and certainly if all you're doing is pressing quilt squares, but not a success for ironing clothes. Rethinking what to do about it, but for now, I'm just enjoying the improvement over the stained beige cover.
With the painting projects out of the way, I've moved on to trying to come up with a good organization system for above the cutting table, reorganizing my built-in bookcase, labeling my fabric scrap bins and small things like that. Eventually, I'll have everything done and ready to show off. But already, I just have a great big smile on my face every time I walk into the room. Mission accomplished!